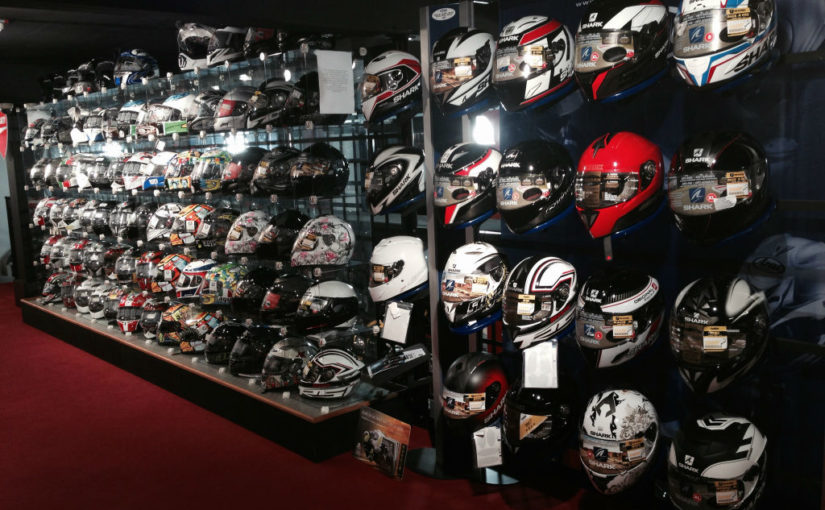 Updated: October 1, 2019.
A motorcycle helmet is a very specialized piece of personal protection equipment. With each new riding season, helmet manufacturers release new helmets, built on decades of research and innovation. A motorcycle helmet that you might buy today is chances are going to be safer and more comfortable than one purchased just a few years ago.
I'm not going to drop a bunch of statistics to scare you into buying a helmet. You found this because you want to know how to pick the best motorcycle helmet for you. I have several years of experience working in motorcycle dealerships and ran a riding gear shop selling helmets. I am going to walk you through some key points to keep in mind when you are choosing for your next motorcycle helmet.

In order to choose the best motorcycle helmet for you, there are four important factors:
Safety
Fit
Comfort
Riding Style
Safety
Safety is the number one reason motorcyclists wear helmets. Be sure to select an industry approved Motorcycle helmet.
Standards
Choose a motorcycle helmet certified with recognized safety standards and regulations. Depending on where you are riding, there are different agencies and safety standards.
DOT

– The United States Department of Transportation sets minimum safety standards for on-road motorcycle helmets. If are buying a helmet for riding in the US, be sure to choose one that meets the DOT safety standards.

ECE

– The United Nations Economic Commission for Europe has called for a harmonization of helmet standards. UN Regulation 22 sets standards for motorcycle helmets.

SNELL

– The Snell Memorial Foundation sets standards for motorcycle helmets, auto racing helmets, as well as other kinds of protective headgear. Snell Standards are the world's toughest.

BSI

– The Brittish Standards Institution sets technical standards for the UK.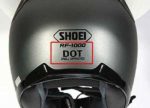 Novelty Helmets
Some people call them novelty helmets. Some call them wall hangers. Some call them off-road helmets. I don't know why they even bother producing them outside of capitalist gains. If it isn't safety certified by one of the organizations above, I'm not wearing it. No reputable motorcycle dealership is going to take a chance on offering a substandard helmet.
I'm not naming names, but in the research that went into updating this post, I found a reputable online gear dealer blog post that mentions that off-road helmets do not have to be certified. There are plenty of DOT approved options available for Motocross and ATV riders that there's no good argument for choosing one that is not certified.
Used Helmets
Don't buy used Helmets. – Period.
You don't know for sure if it's suffered from an impact which may have deformed the internal Expanded Polystyrene Liner (EPS), reducing its ability to protect you in a crash. Also, the foam can start to conform to the shape of your head, or in the case of a used helmet, the previous owner, who, even if the same size probably doesn't have the same shape head as you.
A new motorcycle helmet as a break-in. Of approximately 15 to 20 hours The expanded polystyrene wine will start to conform to your head shape or the shape of the guy that decided it was uncomfortable.
Industry standards recommend that you replace your helmet after five years, even if not involved in a crash or impact. The foam can start to deteriorate from age. The manufacture date can be found on a sticker on the inside of the shell. Even when buying a new helmet, make sure it isn't one that has been sitting in a warehouse for two years.
Fit
The single biggest factor in making sure your motorcycle helmet can perform properly in an impact is fit. If your helmet is too tight it won't offer full protection in an accident, and you're more likely to ditch it and risk riding without one. If your helmet is too big and loose on your head, it's going to smack you a fraction of a second after impact. That's no good either.
Head Shape

– There are 3 basic head shapes.

Round oval, intermediate oval and long oval.

Shop around. Make sure you try on different brands and models before you decide on a helmet. Different brands and models of motorcycle helmets have different internal shapes. You may find certain brands suit the shape of your head better than others.

Measure Your Head

– Use a measuring tape and

know your head size in centimeters

, and shop by that number rather than

letter size designations that are inconsistent from brand to brand

.

Before You Shop Online

– Go to your local dealership and try on a few different helmets.

Know exactly what model and size you are shopping for before you buy a helmet online.

Try them on. Make sure it fits properly and make sure it is comfortable.

Go into the Parts Department or Apparel Department, check out the helmet you want to try on.

Put it on fasten the chin strap and then go walk around the dealership. Check out some new bikes.

Wear the helmet or at least 15 minutes

to make sure that it is comfortable fit.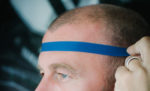 Comfort
You will want a helmet that is comfortable to wear. Riding is about relaxing and clearing your head. You don't want an uncomfortable helmet interfering with your ability to enjoy the ride.
You have to choose a helmet that meets your needs, and is comfortable. If you choose a helmet that you like, and that is comfortable to wear, you are more likely to ride with it.
Key features to look for in your next motorcycle helmet:
Shell Material

– Many low priced motorcycle helmets are made with a Molded Polycarbonate Plastic outer shell. They are much heavier than helmets made of Fiberglass,

Kevlar

or

Carbon Fiber

Construction.

Your neck will appreciate it if you choose a helmet that weighs less.

They are more comfortable for long rides. The more comfortable the helmet, the more likely you are to wear it.

Removable Cheek Pads

– Some Motorcycle Helmets offer removable, interchangeable cheek pads which can allow you to fine tune the fit to your head shape.

Ventilation

– Find a helmet that offers adequate Ventilation.

Sweat and hair products can cause the Expanded Polystyrene Liner (EPS) liner to break down more quickly

. Better quality helmets have openings in the internal liner that align with the exterior vents. In the event that you get exhaust gasses inside your helmet, you are going to want them back out as quickly as possible.

Removable Inner Liner

– I like a helmet with a removable, washable inner comfort liner. Keeping your helmet clean can extend its lifespan, and save you from

sticking your melon in a skunky bucket

.

Optics

– Be sure to choose a helmet that offers an

injection molded face shield

to get the best optical quality. Low quality helmet shields are often heated and bent into shape which leads to imperfections that can cause distortions in your field of vision.

Sun Shields

– A Motorcycle helmet with an

inner sun shield

can offer a darker tint to protect your eyes and reduce glare without needing to change shields later into the evening. Regardless of how easy it is to switch face shields on your helmet, keeping up with a second shield while out on your motorcycle presents its own set of headaches.

Bluetooth Ready Helmets

– If you ride with groups or like to stay in contact with your GPS or the outside world while you ride your motorcycle, consider shopping for a helmet that is ready for an internal mount style intercom or Bluetooth headset.

Please, do not cut the EPS out of your helmet or drill holes in the shell to mount intercom systems

.
Style of Riding
Choose the right type of helmet to best meet your needs. If you are a carving canyon roads on a sportbike, or cruising slow on your bagger, or kicking up dirt on the trails, there's a helmet designed to best suit your needs. Impact position may vary depending on what type of vehicle you are operating. Motorcycle crashes produce a different impact position than an ATV accident.
The Five Categories of Motorcycle Helmets are:
Full-Face
Open-Face
Modular
Dual-Sport
Off-road
A full-face motorcycle helmet is going to offer greater protection in a crash. Full-Face helmets feature a one piece outer shell with a chinbar. Sportbike riders sit hunched over, and should shop for a helmet with an upturned eye port, such as the Shoei X-14, where bikers that ride more upright will want a helmet with an eye port in the forward position. I like the retro look of the Bitwell Gringo.
Open Face Helmets range from half to three-quarter styles They offer less protection than a full-face, and require eye-protection or a shield. I wear an HJC three quarter helmet with a flip up shield.
Modular Helmets look like full-face helmets, but have a 2 piece outer shell with a flip up chinbar. They are popular with a lot of touring riders that want the added protection of chinbar, but want to be able to open it up for reading lips at traffic lights or short stops.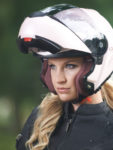 When shopping for a Modular Motorcycle Helmet, verify whether the chin bar section has EPS foam in it for the best level of safety.
A Dual-Sport, or Adventure Motorcycling Helmet is a hybrid of a full-face and MX Style helmet. They feature more sound deadening materials than the average MX helmet and have aerodynamically designed sun peaks which are safer at highway speeds than an off road helmet.
Motocross or off-road helmets are made for the physically demanding world of trail riding and off-road racing. They feature large eye ports designed for goggles, a fixed chinbar and a short visor to shield you from roost. MX and ATV Helmets tend to be lightweight and have superior ventilation but are usually lacking in sound deadening materials. Probably not the most comfortable at highway speeds. If you are an offroad rider, you are not obligated to use a certified helmet. It is in your best interest to choose a helmet that has been certified rather an a novelty helmet.

Shop Local
Once you have done your research, and have a few helmet options in mind, it's time to get to shopping.
Visit a few motorcycle dealerships and riding gear shops before you decide which helmet is right for you.
Go to your local dealer and try on some helmets, and make sure you know what you are looking for before you start to shop. I suggest laying your hands on the helmet you are interested in and make sure it meets your needs and expectations before you order online. All of the big helmet brands will have a dealer locator to find the closest place you can lay hands on their helmet offerings. Call ahead and verify they have the model you are interested in before you make the ride.
Hit up Amazon, Ebay, or the search engines from your device and make sure your local shop has a fair price on the right helmet for you before you lay down your cash.
As motorcyclists, we all hope and pray that we never need to depend on our helmet to protect us in an accident. For most of us, our helmet was our first piece of riding gear. As a rider, your helmet is the most important piece of Personal Protection Equipment you will own.
Wearing a helmet is not a guarantee of safety. When worn in conjunction with other riding gear, a motorcycle helmet drastically increases your chance of survival in a motorcycle accident.
You found this because you want to know how to pick the best motorcycle helmet for you.
A motorcycle helmet is a very specialized piece of personal protection equipment. A motorcycle helmet that you might buy today is chances are going to be safer and more comfortable than one purchased just a few years ago.
The four factors you want to make your decision on are, Safety, Fit, Comfort and Riding Style.
I hope you feel ready to make an informed decision, and can shop with confidence that they helmet you buy will be the best motorcycle helmet for you.
Helping riders stay safe is very important to me and I know I learned a lot as I did my research to update this article.

Resources
Here are some links to the information I read as I prepared to write this article.
They will make a good starting point for your research.
Motorcycle.com Buyers Guide to Motorcycle Helmets
HelmetCheck.org Sponsored by the Motorcycle Industry Council's (MIC) Helmet Task Force
What You Should Know About Motorcycle Helmets – Motorcycle Safety Foundation
How to size and buy a motorcycle helmet
United Nations Economic Commission for Europe – ECE